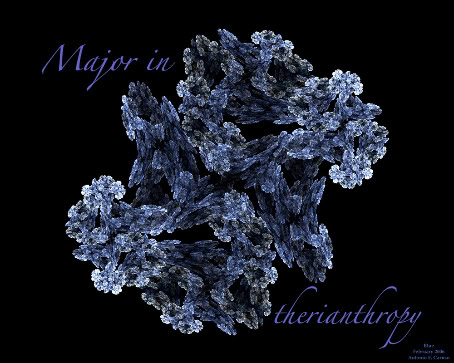 Click the image
IMAGE NOT MINE! It is from the website =D
MAJOR IN THERIANTHROPY
.::Shift To Your True Form::.
Main Idea of the Site:
"Therianthropy refers to the metamorphosis of humans into other animals (from n. therianthrope and adj. therianthropic).
Part man and part beast, from the Greek ther®™on, meaning "wild animal" or "beast" (impliedly mammalian).
Anthr®≠pos, meaning "human being." Therianthropes have long existed in mythology,
appearing in ancient cave drawings such as the Sorcerer at Les Trois Fr®®res.
The term therianthropy was used to refer to animal transformation folklore of Asia and Europe as early as 1901."
This is a Rp site for people who want to Rp about humans that can shape shift into animals.
(Dragons/lizards. Wolves/Dogs. Large/Small Cats. Birds/Spiders. Other mammals/water creatures.)
These are not were-animals/anthros, but actual animals.
Rp Story Line Basics
Humans know of the shape shifters among them.
Every state has a large college campus made just for these shape shifters to learn abilities about their kind.
This site is based on a Campus in the country side of Northern New York.
It was the first college campus for the shape shifters and it is now declared, 'Main Campus,'
of all shape shifting colleges across the United States.
The Leaders of the shape shifters are teachers, and some are students forced to be leaders by blood,
(such as a death in the family and a heir was needed) or marriage.
Some leaders are not lovers and can be friends, or family.
This site also has two teams. Black for bad guys and White for Good guys.
Their boards and respected rp'ing scenes are in their own threads below.
Team White is based on Main Campus and consists of members rp'ing at the college.
Team Black is based at a Lab where horrible scientific experiments literally ripe shifters a part.
Note: You may have characters on both teams. More coming soon.